At TopWebArt, we offer a competitively priced website design service, aimed to small and medium sized businesses and private individuals who do not have large marketing budgets at their disposal. We constantly strive to make sure we give you quality and the best price possible for website design services.
For more info click Website Design
We are highly experienced Multimedia and Flash developers provides a wide range of Flash based services such as full Flash Website Design and Development, Flash Intro with sound, e-Learnning Tutorials, interactive CD presentations and more.
Adding multimedia, video and audio to your web site creates an exciting customer experience that informs, entertains, and engages.
For more info click Flash & Multimedia
Our logo design professionals are experienced and have worked for corporate clients all over the globe and offers highly instrumental logo design that helps in building high-end corporate identity.
With a team in TopWebArt, you can rest assured that you are getting the highest quality logo design service at a price that can't be beat! Why spend $$$ on a logo when you can get the same high quality custom logo designed for a fraction of the cost?
For more info click Logo Design
If you have products to sell, or offer a service and require some form of a deposit upfront, an e-commerce enabled website would allow you to take payment instantly from customers anywhere in the world.
Our e-commerce web designers and web developers are committed to work with our clients to design web sites and develop ecommerce solutions that exceed their expectations.
For more info click Corporate & Ecommerce
TopWebArt is an interactive international web studio, specialists in Custom web design, Flash and Multimedia, Shopping cart, Web Graphics and more.
At TopWebArt, we deliver creative, professional and affordable web design services to individuals, small businesses as well as large organizations.
Websites today have become one of the most important marketing & sales tool and that's why we take care of all aspects of web design for our clients including graphics, programming, usability, animation etc.
We work closely with you every step of the way to ensure that you are fully satisfied. You provide us materials to work with, and we convert them to a dynamic features that help get your message across and to let people interact with your site. We discuss how to include your existing artwork, brochures, digital or printed graphics, photos, and other materials on your site where appropriate.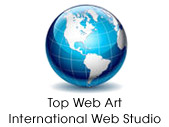 The art of creating a web site involves a lot more than create some pages and pasting images onto them. Interactive features and animations along with creativity can be far more effective in conveying the message to your global audience